What is Jayski.com?
Back in Aug. of 1996, a New Jersey man named Jay Adamczyk was running an Ernie Irvan fan page. Jay heard that Lake Speed was losing the Spam sponsorship and would be sponsored by the University of Nebraska. After an exhaustive search, Jay could only find a couple images of the car and what the sponsorship would had been and posted info about it and the images on a new page called Jayski's Silly Season page and started a team chart on the page about the 1997 season.
The posts and news kept growing and the website kept expanding. As time went by, Jay started accumulating very good sources and was able to generate news that wasn't available elsewhere. Jay began to pool other info from other Internet sites, racing magazines, newspapers, TV shows (making sure to credit those sources) and added race coverage and stats. His traffic began to swell.
Jay held a one-month vote in 1997 to name his site and jayski.com was born as the overwhelming choice. After several partnerships with media companies over the years, Jay decided to partner with ESPN in 2004. Jay retains 100 percent control over both design and editorial of the site, which piled up more than 62 million page views in 2012 alone.
Why advertise on Jayski.com?
Jayski.com is by far the destination NASCAR fans are most engaged with. Fans visit the site 2x more than its top competitors and Jayski.com ranked as the No. 1 NASCAR site for Average Pages per Visitor (23 pages per month), according to Comscore - Media Metrix in 2011. See the chart below to see how Jayski.com stacks up against the big boys.
How Does Jayski.com Stack Up?
Total Internet
ESPN.com NASCAR
Jayski.com
NASCAR.com
% Comp
(Minutes)
% Comp
(Minutes)
Index
% Comp
(Minutes)
Index
% Comp
(Minutes)
Index
GENDER
Male
50%
79%
157
82%
164
59%
118
AGE
Median Age
37.5
39.6
106
50.5
135
45.6
122
Men 18-34
18%
26%
141
28%
153
14%
75
Men 18-49
34%
59%
175
54%
160
35%
104
Men 25-54
30%
59%
196
58%
193
41%
136
HOUSEHOLD INCOME
HHI $100,000+
22%
18%
80
40%
180
23%
103
Median HH Income
$59,997
$54,940
92
$76,895
128
$57,397
96
Other recent honors for the site, include Time Magazine naming Jayski.com one of the 50 Websites That Make the Web Great in 2011.
In July of 2012, the Backseat Drivers Fan Council members revealed their second annual ratings of NASCAR networks, broadcasters and websites. Jayski.com earned the highest rating among all sites with an 8.47 out of 10.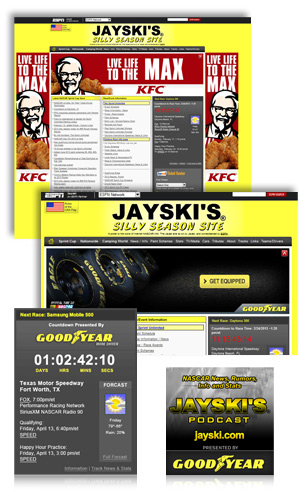 Below are the official results from the survey administered by Dustin Long when panelists were asked to rate these NASCAR-themed websites (10 being the highest score possible and 1 the lowest). Last year's score in parenthesis.
8.47 Jayski.com/(8.32)
8.08 MotorRacingNetwork.com/(NR)
8.04 SBNation.com/(7.75)
7.89 SportingNews.com/(6.35)
7.84 SI.com/(7.00)
7.75 Speed.com/(7.48)
7.61 Frontstretch.com/(6.83)
7.59 Daly Planet/(6.97)
7.41 SpeedwayMedia.com/(6.33)
7.36 NASCAR Insiders/
What size ad budgets do you take?
Jayski has packages for budgets of all sizes. Homepage takeovers, RaceDay Surround options and custom podcasts/feature integrations are on the table for premium buys. This year, we're also teaming with a company called Ad Ready that allows you to buy on Jayski.com in a self-serve model for budgets from $500 to $25k. We're confident our brand will work for your message and want to give a mix of pricing opportunities to find the right match for your budget and goals.